Medically Supervised Weight loss
Our weight loss programs focus on enhancing your health and wellness by utilizing the most advanced and scientifically supported medication intervention, implementing behavior-modification strategies, and offering personalized nutrition support when necessary. We take the hassle out of the process by shipping all medications and supplies directly to your doorstep so you can have peace of mind and focus on making meaningful changes to transform yourself.
We are also proud to be a certified provider for the revolutionary UncraveRx program*. UnCraveRx utilizes sustained-release naltrexone pellet therapy to help you overcome the complex cycle of food compulsion and urges associated with the brain's reward response system. Unlike most other programs out there, we put an emphasis on educating our patients how to achieve long-term and sustainable weight loss. 
* Requires in-office visits due to pellet implantation procedure.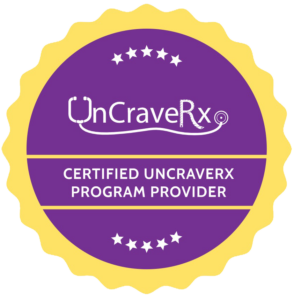 Goodbye Fad Diets. Hello, success!
We know how difficult it is to lose weight and keep it off. It seems everywhere you turn someone is pitching a new fad or the same tired and ineffective solutions to losing weight. The truth is that no one weight loss plan works for everyone. Optimized Health and Wellness has taken a whole new approach to medically assisted weight loss by combining the power of medicine and pharmacology with a team of nutrition, fitness, and lifestyle experts to help you lose excess weight while regaining your health and wellness. So, whether you're looking to shed 5 pounds or 50 pounds or more, we will create a personalized program for you that will curb cravings, boost your metabolism and help you reach your health and wellness goals for the long term.
Medical advances, your benefit!
As advancements in medicine and pharmacology take place, we try to keep our fingers on the pulse with best, most reliable, and datta-driven research and outcomes in the medical space. We pride ourselves on putting in the work so you don't have to. We offer both the latest and safest approved treatments in addition to the tried and true options of old. Some of the medications we are to aid in your success include: 
Semaglutide [the active ingredient in Ozempic and Wegovy]

Tirzepatide [the active ingredient in Mounjaro]

Contrave 

Phentermine

Phendimetrazine

… and more.
TAKING YOUR GOALS PERSONALLY
Diets do not work! Changing your eating habits, starting or revamping an exercise routine, and learning how YOUR MIND AND BODY respond to these changes is the key to loosing excess weight and discovering a new level of health and wellness. We have developed medically supervised weight loss programs that can be individualized to meet your specific needs with a focus on changing your habits and lifestyle for long term success.
A MEDICAL APPROACH
Every client starts off with a full medical evaluation. We analyze your age, weight, blood work, medical history, level activity, body mass index, and other compositional metrics. Where appropriate, we will prescribe medications and supplements proven to reduce food addictions, cravings and appetitie, boost metabolism and curb anxiety eating.
AN EMPHASIS ON REAL FOOD
Fast-paced and demanding lives have given way to convenience foods, fast foods, and dining out as the primary source of food consumption. These foods are fast, cheap, and easy; but they are devoid of the nutrients our bodies need and heavy on fats, sugars, and salt in far larger quantities than we require. Diet companies offer boxed and packaged foods as alternatives but come at a large financial cost and usually are unappealing. We believe in going back to basics with an emphasis on balanced and delicious foods that will provide the nutrients your body needs and support a healthy lifestyle compatible with weight loss and maintaining a healthy weight.
ACHIEVABLE FITNESS GOALS
Each of us have individual fitness goals and capabilities. Whether you're a walker or a marathon runner, we can help you develop your ideal fitness routine. For those looking to take it to the next level, our certified personal trainers can provide personalized programs to help you lose your unwanted weight and maintain your new level of health and wellness.
A FOCUS ON MAINTENANCE
Changing your habits, behaviors, and lifestyle to lose excess weight and improve your overall health and wellness is not an easy task. We are here to assist you in identifying habits and behaviors that are barriers to your success and replace them with tools to achieve a lifetime of success.
DISCOVER THE DIFFERENCE BETWEEN JUST A DIET AND AN INDIVIDUALIZED MEDICALLY ASSISTED WEIGHT LOSS PROGRAM.
We don't want you to just lose weight, we want you to be healthy and well for a lifetime. When you partner with us it truly is a team approach and one that is customized to your needs. While most medically supervised weight loss programs rely just on medical intervention, our programs consist of five key components to long term weight loss and health and wellness. Our five components
include:
Medical and Pharmacologic Interventions: We are medical professionals who utilize a variety of techniques, medications, and supplements to jump start your weight loss and health and wellness journey.
Individualization: One approach does not work for everyone. We all have individual needs, biology and pathology that accounts for weight gain, health and wellness. We will partner with you to find the right balance for you.
Nutrition: We emphasize eating whole foods with the proper balance of calories and nutrients to achieve your results.
Fitness: Exercise is not only important for weight management, it's great for your long term health overall. We help you identify small wins to get you moving more and working towards making a more active lifestyle a permanent change.
Behavior Modification: You are in this for the long-haul. We will help you identify behavioral changes you can make today to help you achieve long term health and wellness.
This is it! These are the five key components to help you lose the excess weight and keep it off.
Health and wellness are a journey and we are here to take you step-by-step down the path of success.